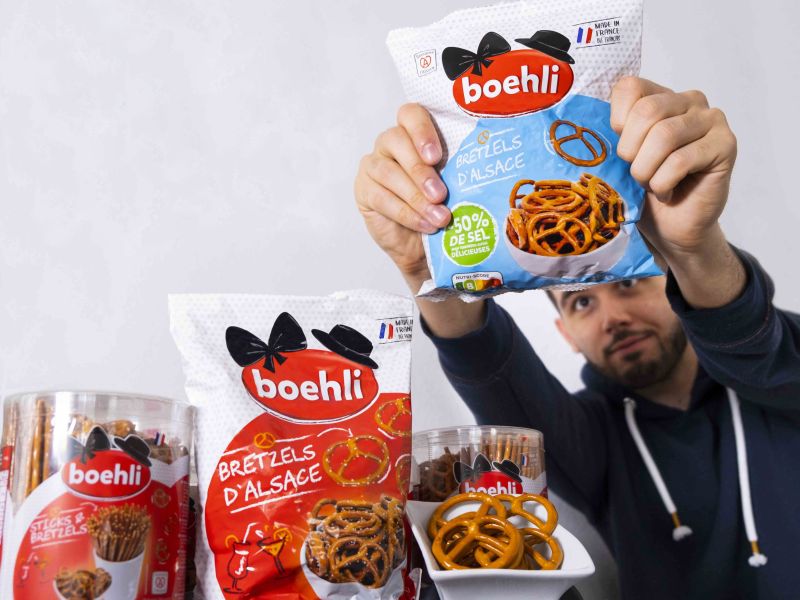 Less Salt... More Pretzels
Boehli expands its family and launches its new 50% less salt pretzels!
In response to the growing expectations of salt-conscious consumers. Thanks to this new recipe combining taste and health, Boehli is able to offer the first pretzels with a B nutri-score.
Indeed, the recipe of the iconic Boehli biscuit has been revisited to offer a healthier but still tasty alternative!
To achieve this, the sprinkling salt has been removed and the recipe has been reworked in its entirety. The aim of this new recipe is to keep the good taste of the pretzel, while reducing its salt content!
The amount of salt has been reduced by more than 50% to 1.3g of salt per 100g of pretzels. This makes it one of the least salty snack biscuits on the market!
A trendy aperitif biscuit
Boehli has decided to expand its range with pretzels that respect the codes of current consumption and that share the vision of "eating well".
These pretzels help to instil good eating habits in the younger generation and offer people who have to limit their salt intake the opportunity to enjoy themselves!
The product's nutri-score B optimises and simplifies the understanding of its nutritional quality. This new recipe is also in line with Boehli's commitment to healthy eating and responsible consumption.
Go back